Driving in Costa Rica is never boring!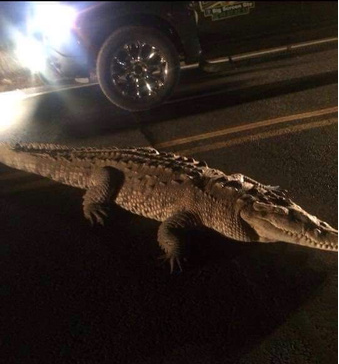 "Crocodile Crossing" photo © CRHoy.com
An 8-foot crocodile brought traffic to a standstill last night in the beach town of Tamarindo in Costa Rica.
According to a witness, the reptile crossed the road at 6:20 p.m. near the Marino Las Baulas National Park. He added that this is a place where crocodiles are often seen.
It may be that low rain levels have forced this huge croc to head out on a search for deeper waters to accommodate it.
The park is well-known as a nesting ground for Leatherback Turtles during their season between October and May, but the protected area includes mangrove swamps which are an ideal habitat for crocodiles and caiman.
Reports confirm that the crocodile was not injured and reached the other side of the road.
Read the original story in Spanish @ http://www.crhoy.com/cocodrilo-interrumpe-el-transito-esta-noche-en-tamarindo/tecnologia/ambiente/