A Leaner, Greener Car
CambYo Car could be the solution to Costa Rica's troubling fuel emission issue in its aim to become a carbon neutral country. The prototype of the electric car designed in Costa Rica has just won a national competition which will provide its inventor, Jesse Blenn with the start up cash of $130,000 to enable him to turn his environmentally-friendly dream into a reality in less than two years.
Costa Rica's cars are all imported from overseas as the small Central American nation lacks the heavy machinery necessary for the degree of car manufacturing favored by the multinational car companies. However, CambYo Car's light base material, composed of sandwiched aluminum and balsa wood, means that it can be fabricated in an old guava jelly factory that will be converted solely for this purpose on the Pacific coast of the country. The starting price of the four seat vehicle is expected to be about $18,000 (with all original investment costs recouped after the sale of just three such vehicles).
The break-even point is about three units per month; this would ensure staying in business and recouping the investment. The long-term plan though is to set up franchises and develop kit cars, so that cars can then be assembled anywhere there's demand. Blenn has a vision of a 'McCar', a vehicle that will be for everyone — easily assembled, affordable and environmentally safe.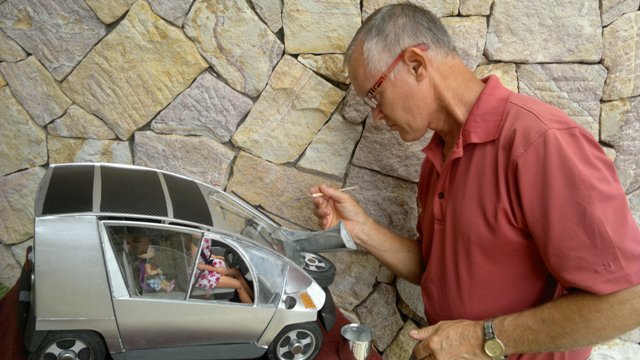 "Final Touches" photo © Jesse Blenn
Kansas-born Jesse Blenn's background in aircraft mechanics and blimp-design consultancy gave him the knowledge and expertise to design a lightweight and efficient vehicle, which — unlike many electric and hybrid models already on the market — appears stylish with its upward opening doors and futuristic look. Despite its flimsy sounding framework of aluminum and balsa wood, Blenn assures would-be users that the sandwiching of these two materials will ensure that the vehicle is secure and crash-resistant. Similar construction has been used on over three million boats and is used in commercial aircraft flooring and interior panels. Lithium iron phosphate (LFP) batteries are more compact than the traditional battery pack used in electric vehicles, thus allowing further passenger space in the CambYoCar's rear seat; total accommodations fit three adults and a child.
Blenn isn't resting on his laurels and continues to polish and improve upon the original model before the actual vehicle starts production. To this end, he has engineered a system to allow gas struts to lift the doors at the push of a button and similar closing with small electric motors. These doors, adapted to a tropical climate, allow umbrellas to be opened or closed without our getting wet.
The benefits of producing vehicles within the country itself are numerous. The cost of buying a car in Costa Rica is overpriced compared to the U.S. due to hefty import taxes. Conventional vehicles once paid a huge 53% of their value in importation tax, although this was lowered in August 2013 to 30-48% for depending on the age of the vehicle. Hybrid or electric vehicles now only have a 10% tax to encourage further importation, or in this case, local manufacture, of these greener vehicles. Furthermore, battery-only automobiles pay zero percent tax.
It is hoped that by lowering the import taxes, vehicle costs will decline and car owners would be able to replace their polluting, older vehicles with more modern, cleaner vehicles. Currently over 30% of Costa Rica's car are more than thirteen years old. However, the much lower taxes on electric and hybrid vehicles are designed to steer the car customer towards alternative fuel options too.
Imagine the benefits of avoiding import taxation altogether to bring vehicles into the country, providing work locally, and avoiding the importation and burning of petroleum — all by building cars right there in the jungle!
Aside from the taxes, the additional cost of importing parts and fuel make the operation of even a basic, second-hand vehicle beyond the scope of the average financial budget. This is not a problem unique to Costa Rica, but a concern in just about every third world country, implying that Blenn's innovation could be the solution to a global problem and not just a local one.
The inventor points out that although an electric car is not a new idea; the large multinational manufacturers will take years to produce an electric vehicle that will be affordable to Costa Ricans and even when there is this option, the parts will remain costly. The revolutionary transition in CambYo Car is the simplicity of its model and manufacture and not its fuel supply. Admittedly, the first model in production will be a hybrid and not a purely electric vehicle, but Blenn very much sees this as a beginning with his ultimate product being a fully electric vehicle — when charging stations become more readily available and the price of batteries decreases.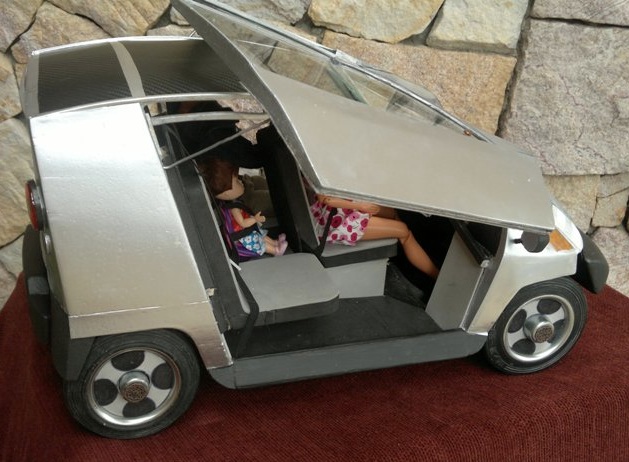 "Unique Side Door" photo © Jesse Blenn
Two agencies sell electric cars and there are others, like Agencia Datsun and Grupo Q, which offer hybrid vehicles. Prices range between $18,500 to $49,000. The current models available are Mitsubushi i-Miev; el Reva; Toyota Prius, Prius C and Camry, and Lexus CT, RX, ES and LS with the Nissan Leaf available from July or August 2014. Grupo Q also hopes to sell the hybrid Hyundai Sonata in the role of becoming the new green taxi for the city.
In 2012, only 60 vehicles had been sold in the three years of availability on the Costa Rican market, but that number had risen to close to 300 by July, 2013 with more customers on waiting lists. This suggests that there is a demand for more eco-friendly vehicles in the country, although it still remains below that needed to change direction and finish converting Costa Rica into the environmentally-friendly nation it wishes to be.
The CambYoCar inventor compares his creation to those churned out by the multinational car manufacturers as a case of 'David versus Goliath' and is confident that just as in the Biblical tale, David will triumph in this case too. Blenn says, "We cannot rely on the big companies to deliver us a Model-T of electric cars which is what the world needs." He firmly believes that the gradual change that is being initiated by manufacturers, such as Nissan, is not progress and that a whole new vehicle and system of production is the only way forward environmentally.
Blenn may sound idealistic, but having given up the materialistic world of the U.S.A. to live in a fruit farm in Costa Rica with his local wife and dream up ways in which to improve the world, his scheme is more than a tree-huggers' fantasy and he is driven by his strong belief that his invention will change the world.
While it may seem farfetched that a toy car driven by a Barbie™ doll will completely change the roads and air quality of Costa Rica, the government's own very ambitious target of being the first carbon-neutral country in the world by 2021 is being severely hampered by fuel emissions from vehicles. Could this invention render fuel emissions a thing of the past? Perhaps not, as Costa Ricans themselves have shown a lukewarm response to purchasing the electric or hybrid vehicles currently available on the market. However, as Blenn says, "To change the world, we have to change the car", and it may be that the government will find it beneficial to support Blenn's project in order to fulfill its own agendas.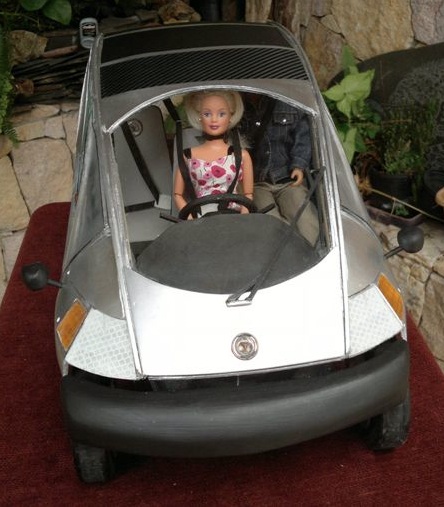 "Barbie™ on Vacation" photo © Jesse Blenn
Costa Rica currently emits around 12 megatons of carbon dioxide annually and vehicle emissions are estimated to be responsible for three quarters of this amount. Government initiatives introduced by Noble Peace Prize winning ex-president, Oscar Arias, aimed to change driving habits such as only one person per car and to encourage vehicle change, but progress since 2007 has been sluggish.
The CambYo Car is expected to reach a speed of 60 mph and capable of covering distances of between 20 miles (for the initial hybrid) and 90 miles (pure electric) before needed to be recharged with the onboard, small generator or plugging in. Prototypes for taxi, 4x4, sports and three wheel versions are currently on the drawing board with the country's busy car rental operators eager to see how the project develops. In a few short years, tourist may very well be touring the Costa Rican rainforests, beaches and volcanoes of the eco-friendly country from the seat of an electric rental car with their GPS loaded up with recharging points along the way!
To get an indepth look behind the model to see the aspects of the design, check out the prototype video from YouTube.
Update: May
We wondered what became of this story and how Jesse was doing. It seems that governmental red tape reared its head, slowing down the grant process which was to enable the car to enter production. The end result was years of waiting, until April 2016, when they were declined from entering Phase II.
Their physical prototype may be seen here — no more 1/6th scale models.
They have entered into a new phase of development. The electric car is now known as the Cambria design. Future funding has been sidelined while they release their latest — an electric trike.
Update: June
Politically, here's what's in the works — thanks to Diego Arguedas Ortiz's recent article.
A bill has been presented in Congress calling for further tax breaks on electric vehicle exports, to set a minimum percentage of electric models in public institution fleets, create a country-wide network of charging stations, and would require electric bus license bids to be given priority. This is, of course, opposed by the car dealer lobbyists.
Another proposal calls for Costa Rica to ban the importation of gasoline/diesel cars by 2030. Both are expected to be discussed before the next election, held in May 2018.
Furthermore, the country has had a temporary prohibition on fossil fuel exploration and exploitation since 2012. Its renewal or repeal will be decided in 2021.
"Barbie" is registered trademark of Mattel Inc. and its use does not imply affiliation with or endorsement, sponsorship, or support.