Some rental agencies rely on one or more of the following four methods to create the impression of a low rate.
Neglecting to include Mandatory Insurance in quote
Costa Rica requires every rental vehicle to be insured against third-party claims. This is a mandatory policy. So no matter what you're told, this charge will appear (in one form or another) on your final bill. Expect to pay between $11 to $25 per day, depending on the make/model of your rented vehicle.

Conditionally requiring additional insurance or waiver
This usually appears as an in-house version of what your credit card program would provide, but instead, it is added on top of the Mandatory Insurance AND it's a requirement to rent their vehicle. Although the online quote will automatically include this in-house policy, it may be refused by presenting sufficient proof of coverage at the counter.

Failing to mention the added airport tax
Officially, the airport tax for San Jose is 12%; Liberia is 3%, but some agencies do charge more...a lot more. One globally recognized brand, in particular, charges 13% airport tax for their rentals in San Jose; 14% for Liberia. Other hidden surcharges exist as well, such as license plate fees, environmental fees and more, but finding this information generally requires sleuthing skills, as it is rarely listed in regularly-sized print anywhere near the quote. See our Compare Fees chart for more details.

Offering "teaser" rates via third-party websites
Well-known booking portals, such as Expedia, Kayak, Priceline, etc. will decline any responsibility for undisclosed taxes or charges that a local rental car company may charge upon your arrival. In other words, it's more than likely that those rates will increase at the counter.

These practices are common to "drip pricing" — where a low headline price is advertised at the start of the online purchase only to be followed by (optional or mandatory) charges for insurance, taxes, and/or other fees that are "dripped" throughout the check-out process. By the end, the item in their shopping cart is, more often than not, over-priced, but since the shopper has invested so much time in the process, they (un)willingly buy it anyway.
But don't take our word for it, it's actually reached governmental proportions with Canada investigating several big brand companies. In April 2017, Hertz and Dollar Thrifty (both companies owned by parent company, Hertz Global Holdings, Inc.) were penalized; June 2016, Avis and Budget were likewise charged for advertising unattainable prices.
An excerpt from a well-known internet-based travel website is shown below. It is representative of other related websites that offer car rentals.
The rates are for a midsize 4x4 (Daihatsu Bego or similar) for a 7-day rental (the typical rental duration). We have "decoded" some of the fine print legalese that is responsible for an increased rental bill.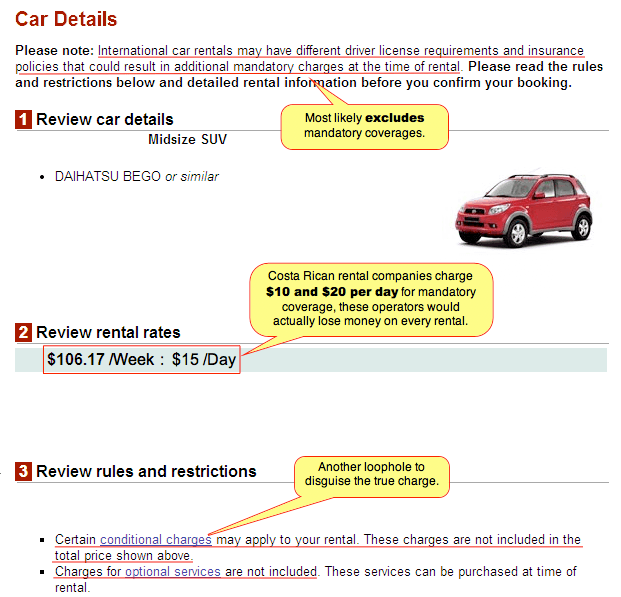 Our intention is to help you, the consumer, to make informed decisions. While comparing rates, it pays to research all mandatory or conditional extras beforehand. Also ensure that you have a copy of all written correspondence.
We rank highly in several surveys of recommended car rental agencies in Costa Rica. Here's the author's latest comparison, reposted with permission. Although this list doesn't show the final tally (where we truly shine), Vamos' rates are competitive with the brand name franchises. All car rental operators provide vehicles, but our service is what genuinely separates us from the rest.
Luis and David are easily reachable for an honest and transparent quote by clicking the Live Chat icon in the bottom right corner, or texting them using our SMS number, or even using your smartphone the 'old skool' way and calling our toll-free number. They'd love to speak with you!

P.S. If you've experienced a similar story that you'd like to share, please leave a comment below or you may email us directly. Help more people to avoid being disappointed on their vacations. Please "pay it forward". Karma does work! 😉