Is it safe to drive in Costa Rica?
Driving Costa Rica's roads in 2018 requires a more defensive style than in North America or Europe. The country adheres to international driving laws, including driving on the right-side of the road, passing restrictions, and speed limits (in km).
Nonetheless, the tropical climate combined with the country's financial challenges to maintain sound infrastructure nationwide, have resulted in road conditions with more hazards than most visitors are accustomed to. Heavy rains and intense heat cause potholes and washouts during the green season and the steep mountainous terrain generates fog and poor visibility. For these reasons and more, visitors are strongly advised to drive cautiously and take it slow.
Although driving laws are similar, they're not always observed, so drivers should quite literally expect anything – from vehicles passing on a curve or motorcycles speeding by on the shoulder, to pedestrians walking on the road for lack of a sidewalk.
Urban and rural driving conditions are dramatically different. In and around San Jose most roads are well paved and marked with street signs (names or numbers). However, it's common not to find a street sign when you need it most. Nearly 70 percent of the country's population lives in the Central Valley resulting in frequent traffic jams, delays, and accidents, so visitors are advised to plan their travels outside of peak traffic hours.
Driving through the rural countryside is not only idyllic, there's usually less traffic, unless you count herding cattle... Road names or signs marking exit ramps or upcoming intersections are less common and sometimes non-existent; hence, adding a navigation system, such as our popular WazePhone, to your car rental is strongly recommended. Having a real-time navigator can take much of the headache and delays out of traveling with a hard-copy map or from provided directions.
When in doubt, don't hesitate to ask a friendly-looking local. Costa Ricans are famous for their warm hospitality and willingness to lend a hand.
Driving at night is not recommended, especially for first-time visitors as many existing dangers, like washouts, lanes ending, or giant potholes, may not be marked. Drinking and driving is another "don't do." Common sense is key!
Car rental requirements
Most visitors can drive in Costa Rica with a valid driver's license from their home country. An international driver's license is only necessary if the home license is written in a different alphabet, such as Mandarin, Arabic, or Hebrew.
In accordance with Costa Rican law, driver's licenses are recognized as valid only as long as the visitor's 90-day immigration permit is valid (this is the Costa Rica entry and exit stamp on your passport). Drivers should also carry their passports with them at all times.
The damage deposit ranges from $100 to $2,000 depending on the level of coverage purchased although other rental agencies may hold up to $5,000 on your credit card. The deposit, or the partial amount, will be reimbursed to the client approximately 3 days after the rental is completed. Examples of deposit deductions include: returning the vehicle with less gas than it was received, and any fines incurred during the rental, such as parking or speeding tickets.
Remember that "off road" driving, including river crossings, or driving on the beach is considered a violation of a rental agreement and loss or damages incurred will not be covered by the rental insurance.
Security
Much like visiting any country, tourists should use extra diligence regarding their belongings and comfort zone. We all want to relax on vacay, but keep common sense close at hand.
Renters are cautioned to be vigilant when parking. It is better to pay a little change to a security guard than leave the vehicle unattended. Never leave belongings in your car even if it's locked, especially in view of passersby. Unfortunately, item theft from rental cars is one of the main crimes affecting tourists, yet it is easily avoided by taking the appropriate precautions.
Should a punctured tire require changing, we suggest driving to the nearest gas station or well-lit populated area to do so. While Ticos are generally very helpful, do be aware that deliberately punctured tires have been used as a ploy to rob unsuspecting tourists.
See the Driving Tips for Costa Rica link on this page for more information on items like reminder road rules, fuel, police, accidents, and other tips for traveling in Costa Rica.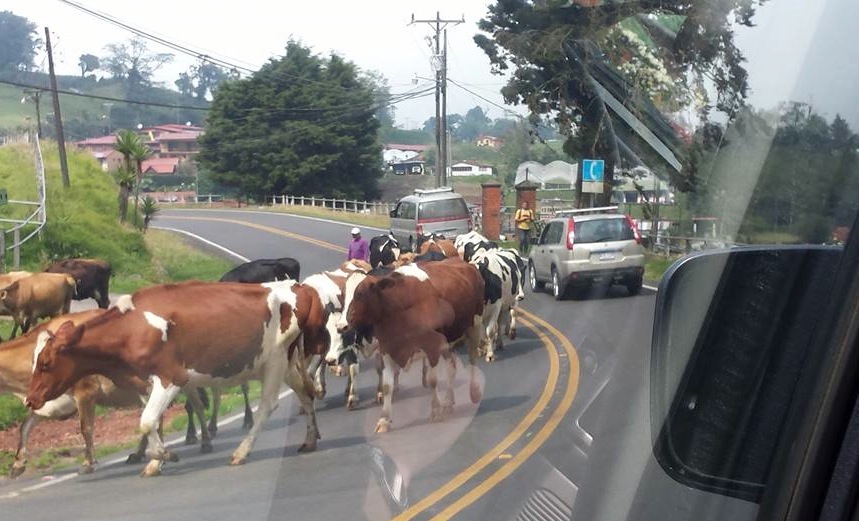 "Cows" © Shere y Paul
Get a Real Feel for the Road
Our posts are primarily written by people who actually live here! They know firsthand the places, routes and things to see and do. A few of them are actually forum experts on several well-known travel websites, so you'll know that we're not making this stuff up.