1. Costa Rican Road Conditions
Most of the main roads in Costa Rica are paved and are in good to fair condition. However, many side roads are in desperate need of repair. Over the last five years, great strides have been made to repair roads, but potholes and other road damages still persist. Therefore, we suggest renting an all-wheel drive vehicle (4x4) to maximize your comfort with higher clearance.
Being aware of the season in which you'll be visiting will help you prepare as well; whether it's Green (Mid-April to October) or High (November to Mid-April) season. View our Traffic Alerts for specific seasonal information.
Please keep in mind that new shocks and tires are not going to smooth out the ruts and hard-packed dirt roads that you may encounter. This is a part of Costa Rica; you may have to "rough it" a bit. Smile, roll with it and live to tell the tale of the car-sized pothole…they're still out there…somewhere.
Once out of the capital, unless you're traveling at the height of High Season, the roads are fairly quiet and you're more likely to pause for cows crossing the road than you are for a rush hour crush. Here are a few pointers that may help you to negotiate the roads:
A hole in the road ahead may not be indicated by official tape or cones. Locals may have helpfully marked the large pothole by inserting a tree branch, tire or similar item…so watch out and leave plenty of space as you drive around the obstacle. A large puddle should be avoided as it may well be hiding a pothole and be much deeper than it appears on the surface. Steer clear of puddles with inserted tree branches as these are the most dangerous.
Bridges are often one-lane only. A traffic sign will indicate which side has the right of way on the bridge, so wait your turn and then seize the moment as soon as you can. Hesitation on your part will be taken as weakness and the vehicles waiting on the other side will immediately start crossing. Potholes are not only restricted to the roads. Many bridges may be equally damaged. Follow this rhyme, "If you can see the river below, take it slow!"
Rivers may cross the road. If they're deep, then turn back and find an alternate route — as your insurance will be void if the vehicle is driven through a river. However, as this isn't uncommon, you may see a raised stone or sandbank which allows the vehicle to cross in only a couple of inches of water. Hence why it's a normal sight to see locals walking in the water, prodding the depths with a stick. They're gauging 'luck' versus 'loss'. There's already several 'bad judgements' posted on YouTube.com, so considering your liability, please don't follow their examples.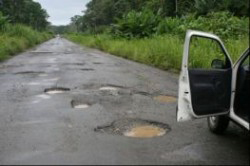 "Challenges in Costa Rica" © VamosRAC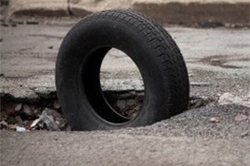 "Marked Pothole" photo © VamosRAC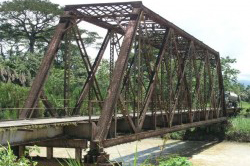 "One-Lane Bridge" photo © VamosRAC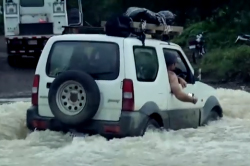 "River Crossing" photo © YouTube
Wondering about other road users? Generally, the rule is to drive defensively in Costa Rica. Although "Ticos" are known as friendly and relaxed people, there tends to be a transformation behind the wheel! Clues for deciphering Tico driving are below, but be warned. You'll have to take your best guess at what they're trying to tell you.
Driving in San Jose is much like any other big city. Taxis will try to cut in front of you, impatient commuters will honk their horns at a millisecond's delay, and peak hours are when you'll hit lines of traffic. The bonus though is that San Jose is a small city, so although the one-way system may make you feel like you're driving in circles; you'll find your way in the end. Don't expect signage to be the key out of your confusion though — there isn't much! If you find yourself overwhelmed, stop and flag down the nearest cab to lead you through the city and towards your vacation route.
Nevertheless, if you're staying mainly in the Central Valley (San Jose, etc.), then a sedan is probably a better choice — for gas mileage, parking limitations and blending in. You'll miss out on your opportunity to spot the "Great Pothole", but we certainly understand that not everyone finds this as amusing as others do.
2. Finding Your Way
You will receive a complimentary road map with your rental documents. Our knowledgeable, bilingual staff will ensure that you have sound directions to your first destination.
Major tourist destinations are marked with road signs. However, these signs may not always be clearly visible the first time you drive by. There are few street names and even fewer street numbers. Addresses are given by distance from landmarks (for example: 300 meters North of the city hall). A compass may be beneficial. A quick rule of thumb, almost all church entrances face West — making it easier to get your bearings (North, South, etc.).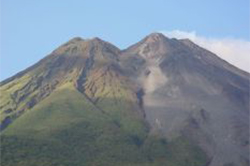 "Volcanos throughout CR" © Sara Ford
Remember, you can always call us with the supplied cell phone (free of charge) to ask for directions! Don`t feel shy, it happens to the best of us.
3. Global Positioning Systems
Safely reach your destinations with the least amount of worry and time-loss. Your electronic co-pilot will guide you comfortably through Costa Rica, so you can enjoy more time relaxing on your vacation.
We offer an optional WazePhone rental for $5 per day and it functions not only as a real-time GPS, but also a Wi-Fi hotspot, and of course...a mobile phone. Please request the WazePhone at the time of your reservation. This allows us to prepare your vehicle without delay.
4. Basic Road Rules
You may drive using the drivers license issued by your home country.
Speed Limits
On highways:80 kph/ 50 mph
In urban areas:60 kph/ 24 mph
Near schools and hospitals:25 kph/ 15 mph
Please note: These are general speed-limits guidelines. The actual speed limit will be posted on signs.
Some other legal points to bear in mind are:
Legal driving age is 18.
Maintain safe following distances.
It is illegal to drink and drive and voids all insurances.
It is illegal to drive without your seat belt buckled. You will be ticketed.
Driving on beaches is strictly prohibited everywhere and voids all insurances.
Children must be seated in an appropriate infant seat or booster! We offer a complimentary child seat/booster free of charge. Please mention your needs at the time of your reservation, so we may arrange it for you, again, without delay.
5. Emergency Vehicles
Emergency vehicles do not have the luxury of time to obey the same traffic laws that other drivers do. When their sirens AND flashing lights are on, emergency vehicles trump all others regarding right-of-way; one exception is a school bus with it`s crossing guard sign displayed, but otherwise, green lights, yield signs, and roundabout politeness are set aside for any police vehicle, fire truck or ambulance.
When a siren approaches from behind:
Slow down.
Check for traffic around you.
Resist the fear to suddenly jerk the wheel to the right — there may be another car, cyclist or even a pedestrian in your blind spot.
Once a clear path to the shoulder appears, turn on your flashers/blinkers and make your way over to the right hand edge or curb of the roadway, parallel to the roadway, and clear of any intersections.
Stop and remain stopped until the emergency vehicles have passed, unless otherwise directed by a police officer.
Be alert before pulling back into traffic for there`s usually more than one responding to the call.
When a siren approaches from the front:
Don`t panic.
Follow the standard procedure; pull to the side of the road as safely as possible and turn on your hazard lights.
Responders will occasionally need to use the wrong side of the road to bypass congestion. Pulling over creates space for them to proceed.
When an emergency vehicle is stopped:
Move over away from the emergency personnel; including tow truck operators.
If it is not possible to move over, slow down and pass with extreme caution.
Following an emergency vehicle:
Stay back; approximately 300 to 500 feet (a football/soccer field`s length)
Do not tailgate — even if your loved ones are in the ambulance ahead. You`ll only increase your chances of being an accident yourself.
Driving over a fire hose:
It is illegal to drive over a fire hose which is in use, unless otherwise instructed by the fire officer in command.
This endangers the firefighters and the pump operator.
Let`s help the emergency responder to do their job by keeping them (and us) alive. Slow down, pull over when clear, and stay alert.
6. Fuel (Gasolina)
Fuel stations (called Bombas or Gasolineras) are widespread across Costa Rica. Regular, Super and Diesel fuel are readily available at all gas stations. Fuel prices are regulated by the government and thus are all exactly the same at every gas station — leaving you to enjoy your vacation without being on the look-out for the cheapest gas pump.
Service at gas stations is provided by attendants, or what they call in the U.S. as "full-service". There is no need to leave the car. Tipping is at your own discretion. On long trips, use fuel stops as an opportunity to relax and freshen-up.
As of September 24, 2018, the price of regular gas is approximately 681 Colones or about $1.18 per liter or $4.47 per US gallon (exchange rate: 579.19 Colones = 1 USD). Likewise, the price of diesel fuel (without all the math) is $3.71 per US gallon.
7. Police
Pull over if a police officer signals you to do so. Police officers may ask you to stop if there is an accident ahead, a checkpoint, or if you are violating the law for such things as not displaying a license plate or exceeding the speed limit.
Your personal documents, as well as the vehicle registration papers, are private property and may not be retained by police officers for any reason. If a police officer insists on stopping you or retaining your documents for no apparent reason, ask him to escort you to the nearest police station to clear the problem. If you believe a traffic police officer or any other law enforcement official acted inappropriately, or you have questions regarding their behavior, call 2257-7798, ext. 2506 and ask to be referred to the nearest police station.
If you are given a ticket, please pay it at the nearest state-owned bank and present a copy of the receipt to our staff when you return the rented vehicle. If you fail to do so, your credit card will be charged for the amount of the fine, plus a $15 administrative fee.
8. Accidents
In case of an accident, stay with the car and DO NOT MOVE IT, unless ordered by a police officer. Costa Rican law states that you must wait until the police and an insurance representative arrive at the scene. Contact Vamos immediately for further assistance. You may also report the accident by calling 911 or 800-800-8000.
9. Other Driving Tips
Many flights arrive fairly late in the day. Consider staying the night at one of the many nearby hotels and allow us to deliver your car early the next morning. You will be refreshed and enjoy the sights on the way to your first destination, instead of driving your first night, exhausted and lost in the dark.
Driving at night should be avoided, unless you have visited Costa Rica and are familiar with the road conditions. It is not like driving back home.
Drive confidently and stay alert.
Do not stop for people waving you down and never stop for hitchhikers.
Do not drive through, or leave your car in poorly lit areas.
Never leave your car on the street unattended; always park it in a safe parking lot.
Do not leave any belongings in the car where they might draw the attention of delinquents.
Summary
Although it may seem daunting at first, annually there are tens of thousands of visitors to Costa Rica who enjoy the freedoms to discover the country at their own pace with the help of their rental vehicle.After all, getting there is always half the fun of any vacation!
Don`t forget to visit our Tico Tips outlining 7 insider tips from a local perspective.