2. Brief History
Vamos Rent-A-Car is a Costa Rican car rental company founded in December 2004 by George Schwarzenbach.
At that time, Vamos started under the name of "Pura Vida Rent-A-Car" with a lone 2001 Kia Sportage and advertised in Costa Rica's oldest English-language news source, the Tico Times.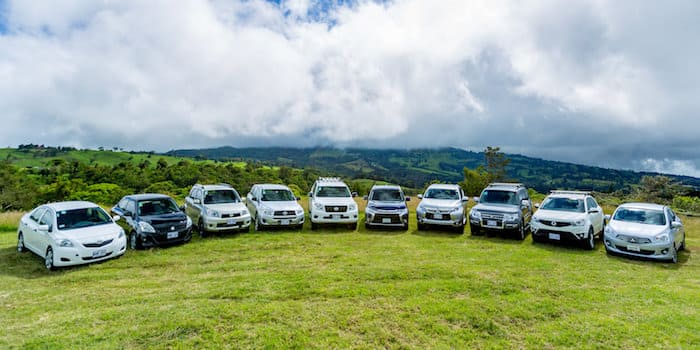 The mission was to provide affordable rental car options for long-term travelers in Costa Rica. Early adventures combined with near disasters, led to the formalization of contracts and of the company as a whole.
When the fleet reached seven pre-owned 4x4s in December of 2005, the company began operating as "Affordable Rent-A-Car" to avoid any confusion with other companies called "Pura Vida".
The success of the fledgling company drew the interest and investment of a Miami partnership along with a further name change, designed to make the company sound more appealing in June of 2006. Vamos (which means "Let's Go" in Spanish) was born, although the company continued to trade under the corporate name Affordable Rent-A-Car.
Vamos Rent-A-Car moved into their Alajuela office location near the Juan Santamaria International Airport in December of 2008.
At the beginning of 2013, the Vamos fleet numbered more than 130 vehicles and the company had two additional offices; one based in Dominical/Uvita and the other in Liberia, serving the Daniel Oduber Airport.
The fleet reached 155 vehicles in 2014 and by 2015, it had grown to over 200 vehicles. They also opened a new virtual office in the Manuel Antonio area to replace the Domincal/Uvita location and serve the Quepos La Managua Airport (XQP). By year end, Vamos employed 25 team members, from counter help to their own automotive shop.
In April of 2016, the Vamos brand was officially purchased by Poas Rent A Car. This press release outlines further details, but the main points are that the two companies remain separate entities, share a combined fleet of 131 vehicles, and the Manuel Antonio office was closed until further notice. Following the transfer, the new corporate name was changed to Alquivam.
By mid-November 2016, the fleet grew to 196 vehicles; 89 of which were brand new vehicles. The particular makes/models are outlined in this press release.
In the first quarter of 2018, the shared fleet grew to 248 vehicles by leasing brand new models with a substantial increase of the most popular car category — the Intermediate 4x4.
The last quarter of 2018 saw the fleet rising to 288, its highest number. After Easter 2019, the fleet was reduced to 251 vehicles for the yearly seasonal lull. Beginning fourth quarter 2019, the fleet will surpass its highest mark; in the neighborhood of 320 vehicles, with 70 brand new cars joining the predominantly current year to two year old models.
Currently, Vamos employs 34 people -- from management to maintenance shop, many of which have been with the company for more than ten years. Vamos is more than a job; for many, it's their second family as well as their career.
The company continues to operate under the premise that "the customer is family" and provides continuous staff training to ensure that Vamos representatives are offering clients the customer service that they deserve.
4. Vamos Executive Staff
Alex Villalobos became the new Operations Manager in April, 2016 after George stepped back with Poas' acquisition of the Vamos brand.
Born, raised, and educated in Costa Rica, Alex brings authentic "Pura Vida" to work. Combining a bachelor's degree in advertising with his work experience at such global companies as Coca-Cola and Hewlett Packard, along with his past ten years working directly in the tourism industry, Alex is a natural to lead Vamos with his international business sense and well-honed customer service skills.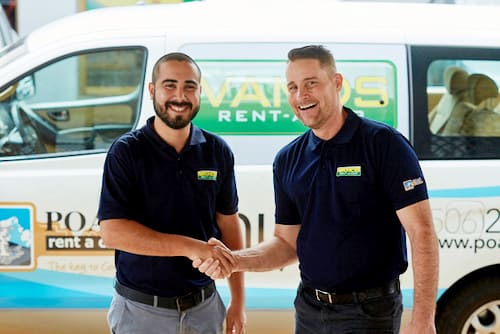 Alex considers work-life balance the key to a happy life and enjoys spending time with his wife and two children. Between creating and sharing meals with his extended family and traveling both locally and abroad, Alex regularly reads to stay updated on business trends. He speaks fluent English and Portuguese as well as his native Spanish. Currently, Alex is among the first group from Team Vamos to learn French as a way of broadening the company's customer communication skills.
5. Contacts
VamosRentACar.com :: This newly designed website with mobile in mind.

Store.VamosRentACar.com :: Storefront for vacation novelties.

Reservations.VamosRentACar.com :: An updated online booking portal.

VamosRentACar.fr :: French version of this website.

Reservations.VamosRentACar.fr :: Booking portal for French users.
For Reservations
1-800-601-8806 or visit Vamos' Online Reservations
For Media Relations
1-800-601-8806 ext. 1001 or email pr@vamosrentacar.com