2. What's a SIPP code?
SIPP codes are an industry standard for outlining the principle key details of any vehicle. This code is composed of 4 letters in a particular order. For example, Vamos' automatic Sedan category is classified as ICAR. This could represent several car makes and models, but in our instance, it's usually a Toyota Yaris or a Nissan Tiida from our fleet. Both have the same qualities — Intermediate Size / 4 Door / Automatic Transmission / Unspecified Fuel Type with Air Conditioning — so either one would be suitable, given those basic car features.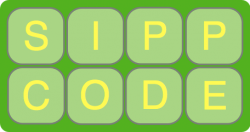 3. This seems confusing. Why use them?
When one thinks of all of the possible combinations that cars come in, it's easy to see why being able to communicate these options becomes a necessity — no matter what country or language. What this means for the consumer is that they're now able to compare features to features and not just the paint color and the number of tires.
4. What guarantee is there to get the model I booked?
Car rental agencies guarantee the car category; i.e. the SIPP code. When that category is depleted — due to accidents, etc. — the next higher SIPP code is assigned. These are called upgrades. For the larger franchises, it's quite normal to be potentially presented with a different vehicle, with the same SIPP code (or higher), than was shown on their website. Not to worry though, as the SIPP benchmark assures receiving the same level of quality, regardless of the car manufacturer.
5. Okay, so how do I use a SIPP code?
The order of the four letters (sometimes even repeating the same letters) is what's used to describe the base features of a vehicle. Below is a simplified chart using the Expanded Matrix designations as it relates to Vamos Rent-A-Car and most other Costa Rican rental companies.
First Letter
(Size of Vehicle)
Second Letter
(Number of Doors)
Third Letter
(Transmission & Drive)
Fourth Letter
(Fuel & A/C)
E = Economy
B = 2-3 Doors
M = Manual Drive
N = Unspecified Fuel, no A/C
C = Compact
C = 2/4 Doors
N = Manual, 4WD
R = Unspecified Fuel, A/C
I = Intermediate
D = 4/5 Doors
C = Manual, AWD
D = Diesel, A/C
S = Standard
W = Wagon / Estate
A = Automatic Drive
Q = Diesel, no A/C
F = Fullsize
V = Passenger Van
B = Automatic, 4WD
V = Petrol, A/C
P = Premium
S = Sport
D = Automatic, AWD
Z = Petrol, no A/C
F = SUV
At Vamos Rent-A-Car, we currently have the following in our fleet.
| Category | Transmission | SIPP Code | Make/Model |
| --- | --- | --- | --- |
| Sedan | Manual | CDMR | Suzuki Swift / Toyota Yaris |
| Sedan | Automatic | CDAR | Mitsubishi Mirage G4 / Toyota Corolla |
| Intermediate | Manual | IFMR / IFNR | Daihatsu Bego 4x4 |
| Intermediate | Automatic | IFAR / IFBR | Daihatsu Bego 4x4 |
| Standard | Manual | SFMR / SFNR | Ssang Yong Korando 4x4 |
| Standard | Automatic/p> | SFAR / SFBR | Ssang Yong Korando 4x4 |
| Fullsize | Manual | FFMR / FFNR | Toyota RAV4 |
| Fullsize | Automatic | FFAR / FFBR | Mitsubishi Outlander / Toyota RAV4 |
| Premium | Automatic | PFAR / PFBR | Mitsubishi Montero GLS & Sport / Toyota Prado |
With these letters, one can determine the relative size, comfort, drive, fuel type and…the all-important air conditioner. All hail, low humidity! [kneel]
These codes may seem rather vague and the primary reason is the rental sector. For example, having a 2 or 4 door category allows for a vehicle with either configuration to be an appropriate selection without adjusting the rental agreement paperwork. This is particularly true with the Unspecified Fuel code where diesel or gas variations may be intermixed within a particular car category. Reservations change on a daily basis, let alone when someone books a car three months in advance. By granting rental businesses the flexibility to assign cars within a class saves clients the hassle of re-signing all the forms, not to mention, cancelling reservations due accidents, traffic fines or inspection procedures.
6. History
The SIPP acronym stands for Standard Interline Passenger Procedure, but they are also more formally known as ACRISS Car Classification Code since the Association of Car Rental Industry Systems Standards developed and maintains them. Designed with Europe, Middle East and Africa in mind, these codes are also used in Costa Rica and elsewhere because some ACRISS members include these [alphabetically arranged] global franchises: Avis, Budget, Enterprise, Europcar, Hertz, PremierFirst (Alamo / National) and Sixt. Travel portals such as Sabre Travel Network, Travelocity and Expedia use these codes alongside domestic travel agents, tour operators and industry press to provide specific details on the 400 possible vehicle categories.
This Wikipedia entry may be of interest to the international traveler who requires aid concerning car category nomenclature.
7. Word of caution
Speaking of categories, although SIPP codes are a standard, their use is voluntary and there's room for interpretation — as North Americans tend to expect larger models. All Costa Rican car rental companies are encouraged to utilize them, although some do not. To make things worse, some have created their own abbreviations, thus making it more difficult to provide an accurate comparison — which is exactly their intent. Don't be fooled, ask the rental company and get it in writing! Better to be safe than cramped.
Searching to save money with the multitude of car choices? By understanding these codes, it'll make the rental selection even easier. Knowledge + confidence = relaxation!