Dream Wedding
The Wall Street Journal first reported in November 2013 that destination weddings are increasing in popularity with North American and European couples. This combined market share amounts to over 16 billion dollars annually. The popular wedding expert website, The Knot, reinforces this data from their annual surveys. Costa Rica is listed as the most popular location in Latin America to say "I do" with 25% of couples choosing to hold their destination here rather than another Latin American country.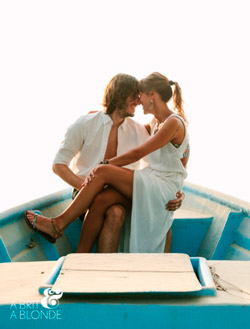 "Romantic Couple" photo © A Brit & A Blonde
Who chooses a destination wedding?
The average 'destination bride' is 33 year old, college educated, and a future joint income earner of $110,000 per year. The 'traditional wedding' is held by a 28 year old blushing bride. The profile of the 'destination bride' is understandable as 60% of destination weddings are paid for by the couple themselves, requiring a financial security that younger couples may not have. Couples marrying for a second time are also more likely to choose a destination wedding than first-timers which may also explain the higher average age of the bride.
Why choose a wedding away?
Weather

One of the main reasons for couples choosing a destination wedding is the weather; nine out of ten couples state that this is a deciding factor on their choice of wedding location. It is no surprise then that Caribbean islands and Latin America are high up on the list of preferred destinations as they promise clear blue skies and intense sunlit, white beaches for the perfect wedding in paradise.


"Holding Hands" photo © A Brit & A Blonde

Cost

Although flights may be costly, the reduced cost of a destination wedding as opposed to a hometown wedding more than compensates. If U.K. figures are to be believed, the average hometown wedding totaled $42,000 compared to only $7,850 for a destination wedding. The wedding cost is less at a destination wedding than the average honeymoon cost of a traditional wedding which is calculated at $8,200.

Guests

Considerably savings are made with guests. Firstly, the guest list is very much reduced in a destination wedding with the average being 35 guests, instead of an average of about 150 guests at a hometown wedding. This difference allows the happy couple to save on the price of their guests, even though the cost of each guest at a destination wedding is $428 higher than the $170 paid for each guest if they were in their hometown. There is also the reduced obligation on both sides; the couple does not feel that they have to invite every third cousin and members of the extended family, whereas less close friends may refuse to pay the average $400 that each destination wedding guest pays without slighting the happy couple.

Stress-free

While no wedding launches without its hitches and glitches, by marrying away from home, the couple is relieved of the stress by passing it onto the organizers at the chosen destination.There is still the all-important dress to purchase, but the details of the dining, entertainment and accommodations are removed and handled by a professional.


"Kissing Couple" photo © A Brit & A Blonde

Elopements

For the ultimate romantic wedding, some couples choose to marry alone and in secret with a party upon their return to share the good news with family and friends. This is particularly attractive to couples who have been married before and want to avoid the fuss of a second marriage and any bad feelings among relatives. However, younger couples may see this as an opportunity to escape the pressure of a traditional wedding with all the trappings and expectations of those around them.
Gay Destination Weddings
Countries all over the world are changing laws to allow same sex union and opening up the market for gay destination weddings. Even in countries where marriage is not yet legal between gay couples, symbolic nuptials are often offered for couples who want a ceremony to celebrate their love for each other.
Why Costa Rica for a destination wedding?
Weather

Dry season is between December and April for guaranteed sunshine for the big day. The Caribbean coast of Costa Rica offers an alternative during green season months as the summer on this side of the country is between July and November. But even in the green season the temperatures remain tropical!


"Wedding Bands" photo © A Brit & A Blonde

Nature

Lush rainforests, active volcanoes, hidden waterfalls and palm-lined beaches provide the perfect backdrop for an exotic wedding.

Activity

Whereas honeymooners used to look for quiet post-wedding relaxation; these days more and more couples want adventure and Costa Rica can offer it all from bungee jumping to white water rafting to rappelling. Of course, the options of dozing in a hammock, lazing on a sun-kissed beach or lounging poolside are open too!

Safety

Costa Rica has been lucky to escape the political turmoil of its neighbors and its secure democracy has led to it being considered a safe tourist destination for many years.

Cost

Wedding costs are significantly less than in North America or Europe, but the country can offer very high quality all-inclusive resorts and stunning boutique hotels in which to hold the ceremony and accommodate the wedding party.

Accessibility

Flights from the U.S.A. are reasonably priced and between 3 and 6 hours long.

Minimum Red Tape

Paperwork is not extensive and Costa Rica does not require minimum residency as some other countries do. Wedding packages offered by resorts and planners will often take care of the headache of official paperwork for the couple.
What are the requirements?
The requirements listed below are usually sent to the lawyer or wedding organizer who is then responsible for preparing the documentation for the legal paperwork for the marriage certificate at least ten days in advance of the ceremony.
Civil Documents
The civil wedding act includes two documents:
A sworn statement of your marital status amongst other details and for this reason you do not need to bring notarized documentation from your own country.
The marriage document itself.
The signed marriage document will not become official until it has been processed by the Civil Registry which normally takes about three months. Once it has been officially recognized, your wedding organizer should send the documentation through a courier service. For an additional fee, an express wedding document is available and will provide documentation within 12 working days. The marriage certificate should then be taken to be authenticated in the Costa Rican consulate of the couple's own country and submitted to the city hall or equivalent in the country of residence for officiallyicial recognition within that country.
How to Make It Happen
Nearly half of all couples planning a destination wedding will use a travel agent to help them. In this modern age, many couples plan their weddings via email, or even Skype, with wedding organizers that are either onsite at resorts or plan weddings at various locations. The most popular part of the country is Guanacaste due to its dry climate and upscale, all-inclusive resorts. However, jungle retreats in an area such as the Osa Pennisula or a Caribbean beach wedding are also possibilities. Decide on the location and find an organizer who can provide genuine recommendations from satisfied clients.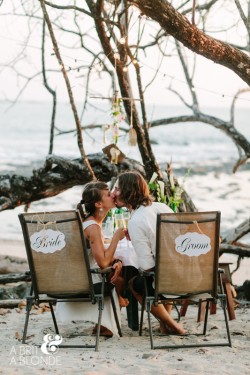 "Beach Toast" photo © A Brit & A Blonde
Suggestions for a Smooth Wedding Day:
Start planning with at least a year before your intended date to allow for all organization and for your invited guests to have time to save and purchase airfare tickets.
Prepare and submit all paperwork as far in advance as possible.
Send out ´Save-the-Date` notices at least eight months prior.
Arrive at the wedding location a number of days before the ceremony to finalize and correct any small detail which may cause a hiccup in your planned day.
Organize accommodations and car rentals for the whole wedding party rather than each guest making their own arrangements. This way the group can take advantage of multi-vehicle rental packages and hotel deals.
Keep it simple. If the wedding is to be held on a beach, high heeled shoes will sink into the soft sand and long trains or veils will soon be sandy too. Formal dress attire in tropical temperatures is not fair for guests either, so clarify your dress requirements on your invitation.
Destination wedding guests often stay extra days before and after the ceremony –- they average a week's stay. After paying for flights, it seems only wise to enjoy a vacation as well as the wedding celebrations. For this reason, the newly-weds may wish to book their honeymoon at a different location(s) to avoid spending it all with their guests!
Images courtesy of A Brit A Blonde husband and wife wedding photography team. Their bags are always packed and ready for adventure. They shoot wonderfully whimsical weddings all over the world and adore shooting in Costa Rica. Their weddings have been featured in numerous wedding blogs and are often featured in Destination Weddings Honeymoons magazine.